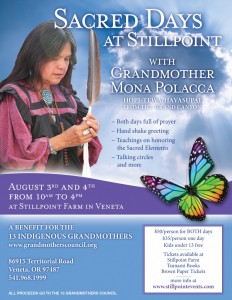 Sacred Days at Stillpoint is in the planning stages for 2014. Save the weekend of September 13th and 14th for two beautiful days at Stillpoint! Put it on your calendar now!
2013 details:
August 3rd and 4th 2013, from 10am to 4pm.
For 2013 we are moving in a new direction of our theme of connection to the Divine and Mother Earth.
Sacred Days at Stillpoint. We are opening to a more retreat-like setting, focused around the 13 Indigenous Grandmothers. Instead of a festival format with lots of booths and music, we will share our time more intimately with one of the Grandmothers, Mona Polacca, Hopi-Tewa/Havasupai of the Grand Canyon.
She has much to teach us, many messages that are available for us to hear. She offers us ways to deepen our connection to All That Is. We hope you will join us August 3rd and 4th.
The Grandmothers Mission Statement:
We represent a global alliance of prayer, education and healing for our Mother Earth, all Her inhabitants, all the children, and for the next seven generations to come. We are deeply concerned with the unprecedented destruction of our Mother Earth and the destruction of indigenous ways of life. We believe the teachings of our ancestors will light our way through an uncertain future. We look to further our vision through the realization of projects that protect our diverse cultures: lands, medicines, language and ceremonial ways of prayer and through projects that educate and nurture our children